Realizing a Dream
James Noël and his firm were the natural choice to serve as general contractor on the expansion of Airshow Mastering's Takoma Park sound recording and mastering facility. Allyworld is a multi-use performance and recording space. James has decades of experience creating music and television production studios, and was project manager during a previous renovation at Airshow.
Structural Elements
After a neighboring store gave up its lease, Airshow was able to expand into the adjacent space and brought in Noël Design Build to create the new studio and performance venue.
The building has been standing for nearly 60 years, and to comply with the current building code, the rear wall abutting older construction needed to be shored up with heavy steel beams and concrete. Noël Design Build and consulting engineers worked together to design a new wall. We brought in a volumetric mobile concrete mixer to produce and pump the concrete. Mobile mixing is a greener alternative because the truck mixes only as much concrete as is needed, with very little excess produced.
Soundproofing Permeates Design and Construction
Soundproofing is critical in a recording studio, and is evident in the design and materials at all stages of construction.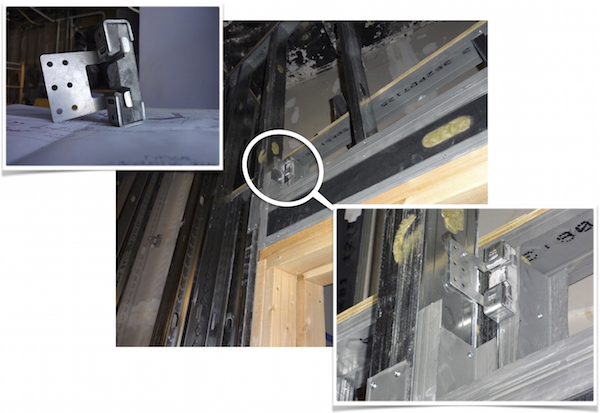 Framing for the studio space is isolated from the concrete and steel shell of the building itself.
The subfloor comprises multiple layers applied atop the concrete slab – a vapor barrier, fiberglass batting, laminated fiberglass pucks, plywood, honeycombed rigid insulated board, then plywood and cement board. Sound isolation clips are used in the walls and ceiling.
Whisper quiet air conditioning is critical in a recording studio. The air handler is hung above the ceiling above the front office, outside the studio space. Made-to-order ductwork includes silencers to dampen the noise of the fan and moving air. Isolation hangers and pucks prevent vibrations being conducted into the studio.
Fabric-covered soffits, soundproof sliding doors, and diffusers on walls and ceiling are visible elements critical to the acoustics of the space, an offer opportunities to enhance the visual aesthetics of the space.